---
Tarja vs Anette
17. 4. 2008
Tarja Turunen..................................versus...................................Anette Olzon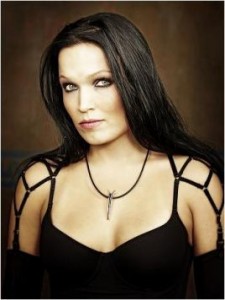 Tarja - Anette - Tarja - Anette... Tohodle srovnávání se Nightwish nikdy nezbaví. Každý má tu svou oblíbenkyni. Ti lidé, co hlasují pro Tarju, hlasují proto, že NW poslouchali s ní, nebo je za éry číslo 2 oslovila minulost Tarji. A Anette našla zalíbení u těch, kteří NW začali poslouchat až po vydání DPP. Přece nikdo neposlouchá skupinu, u které se mu nelíbí hlas vokalisty (v tomto případě vokalistky).
  Je tolik rozumných argumentů, proč si myslet, že Tarja byla namyšlená, ale zase tolik argumentů, které to vyvrací. Anette za nic nemůže - do skupiny se dostala, až po vyhazovu Tarji. Navíc, kluci by jí nevybrali, kdyby neuměla zpívat. Teď se může zdát, že jsem neutrál, ale za mě jednoznačně Tarja. Dala Nightwish něco navíc, čím byli vyjimeční. I přes to, že Tarju si raději poslechnu než Anette, tak je nemůžu srovnávat. Každá se učila zpívat jinačím způsobem a každá je jiného rázu. A nemůžeme říct, že Anette patří do popu, hodíme se tam, kam nás srdce táhne. Kdyby nebyly takové skupiny jako je Nightwish, Epica, (bývalá) Tristania, tak bychom řekli, že klasické zpěvačky a metal je olej a voda... Začít srovnávat můžeme v tom okamžiku, když Anette zpívá staré písničky. Třeba Sleeping Sun, tato písnička byla napsaná pro Tarju, ne pro Anette! (Když jsem tuhle verzi SS slyšela, tak jsem měla slzy v očích, jak rychle z překrásné balady dokáže člověk vytvořit obyčejnou píseň, vynikající už jen textem). Jako velká sviňárna (promiňte mi ten výraz, ale nemohla jsem najít nic výstižnějšího) se mi zdájí videa, takzvaně duety Tarji a Anette. Prostě pustit naráz tu samou píseň zpívanou Tarjou a Anette je škaredé, protože je jasné co zní líp a komu to ve výškách tolik neujíždí (samozřejmě tím myslím Tarju :-)).
 Tarja sama řekla, že chtěla odejít, ale až po dalším albu a odjetém turné, takže toho srovnávání bychom se stejně dočkali. Co mě na tom nejvíc štve je totiž způsob, jakým kluci ze skupiny tarju vyhodili, že jí to po 9 letech přátelství nedokázali říct do očí. A samozřejmě se museli dlouho přetvařovat, při všech těch rozhovorech a samotných koncertech, předcházejících Hartwall Aréně. Myslím si, že to na tom Tarju nejvíc mrzelo.

  Mě osobně Tarjina sólová dráha více připomíná Nightwish, než ti momentální s deskou Dark Passion Play. Mám i ten pocit, že tenkrát, v době od rozmezí Angels Fall First do Once, byly texty silnější (že by Tuomasovi odešla můza?) Je sice pravda, že The Poet And The Pendulum má text překrásný, ale stále tam cítím, že se to motá kolem Tarji. Kdo ví co se mezi nimi stalo a proč ji Tuomi vykopl. Možná si teď hryže nehty, protože Tarjita se dokázala postavit, velice úspěšně, na své nohy. A možná ne. Každopádně si myslím, že NW jsou teď o něco komerčnější, Anette propůjčuje skupině takový zvláštní cover něčeho obyčejnějšího. Není to tím, že by byla Anette špatná  (co se jí musí nechat je to, že vypadá přátelštěji). Z Tarji totiž sála obrovské charizma. Já vždy budu fanda Tarji a to nezmění nic. Po jejím vyhazovu jsem vůbec nečekala, že by ji vzali zpátky, ale doufám, že by mohli obnovit staré přátelství...
Komentáře
Přehled komentářů
---
---